News
Subscribe to posts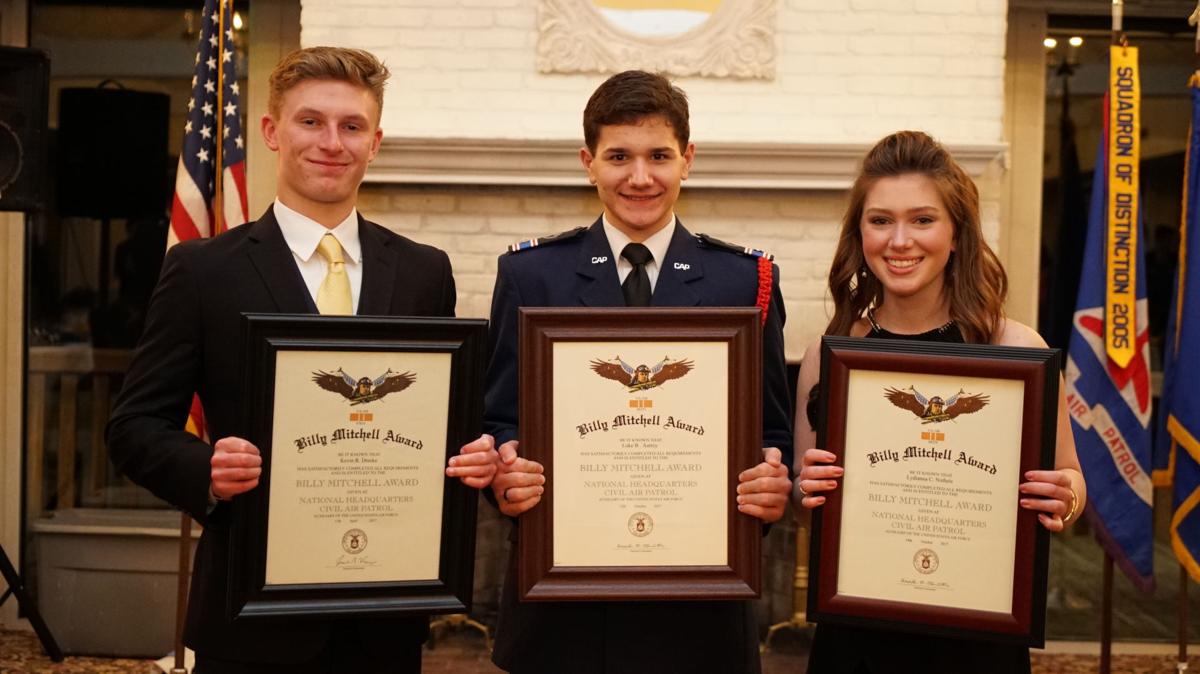 Three Civil Air Patrol cadets were presented with the Gen. Billy Mitchell Award and gained the rank of second lieutenant at the Fredericksburg Composition Squadron's annual Dining Out at the Fredericksburg Country Club on Jan. 20.
With this achievement Luke Autrey, 17, of Spotsylvania County, Kevin Dreeke, 18, of Stafford County, and Lydianna Notheis, 16, from Marshall, join just 15 percent of all cadets in the nationwide program and are eligible for immediate promotions should they choose to enlist in the Air Force or another military branch.
"It takes an incredible amount of dedication to make it this far in the cadet program," says Capt. Greg Fletcher, Commander of the Fredericksburg Composite Squadron. "It's a lot of work to reach this point in the cadet program, but these cadets will be competent leaders wherever they go in life, due in large part to their experiences as a Civil Air Patrol cadet."
All three cadets have served or currently serve in leadership roles at the Fredericksburg squadron and are passing on the knowledge they have gained in the program to younger members. They also all serve active roles in their community beyond the Civil Air Patrol and have exciting prospects ahead after they leave the program.
Autrey, a senior at Massaponax High School, has been a member of CAP since 2015, and currently serves as a flight commander and as a member of the Virginia Wing Cadet Advisory Council. He serves as a camera operator and director at his local church. He plans to attend Liberty University next fall and eventually complete medical school and serve as a military physician.
Dreeke, captain of the tennis team at Stafford High School, recently received his appointment to the U.S. Naval Academy for the upcoming academic year. He attained his private pilot certificate at age 17 through JLS Aviation in Fredericksburg, and volunteers as a co-pilot for Patient Airlift Services.
Notheis, who is homeschooled, joined the organization in 2015 to gain leadership experience and explore new skill sets. She currently leads in the squadron as a flight commander and volunteers with her local church and with Generation Joshua.
"The moment you decide to become a leader is the moment that you focus on everyone but yourself," says Dreeke. All three cadets display this concept through both their words and their actions in Civil Air Patrol and elsewhere.
Interested parties can learn more about the Fredericksburg Composite Squadron of Civil Air Patrol at fredericksburgcap.com.
Joint Base Langley-Eustis Honor Guard supports Civil Air Patrol cadet competition
JOINT BASE LANGLEY-EUSTIS, Virginia – Twenty-four Civil Air Patrol (CAP) cadets from over 9 squadrons across the Commonwealth participated in Virginia Wing's Cadet Competition held at Joint Base Langley-Eustis on March 10-11, 2017.
The cadet competition was modeled after the national competition, which aims to showcase the full range of challenges in cadet life experienced at the squadron level, and new areas of learning that are important to America. All cadets across the state were invited to compete. The cadets participated in a total of six different events, starting with a written exam on Friday evening. 
During the day Saturday, the teams participated in indoor and outdoor posting of the colors, a team leadership problem, where in 30 minutes they had to build a structure from straws that would support the weight of a tennis ball, a uniform preparation challenge which included building a cadet uniform from scratch, and a team member from each team gave an extemporaneous speech. Many of the teams present were made up from two squadrons and having not worked together before, showed excellent team effort while having a great time building camaraderie and furthering their leadership and mentorship skills. Lt. Col Max Benbow, from North Carolina Wing, worked with the base's Honor Guard judging the indoor and outdoor color events. Having served in a leadership role for many cadet honor guard activities, including the Middle East Region Honor Guard Academy, Lt Col Benbow was able to provide valuable mentoring to the teams.
Six members of the base's honor guard volunteered their time and assisted with judging the teams and providing them with training and feedback. They oversaw the teams as they performed two different events.
The first event was the "indoor posting" portion of the competition, where each team was tasked to post the
colors (United States and Civil Air Patrol flags) as if it was for an indoor ceremony. The Honor Guard also observed the outdoor color guard event, where the teams performed reveille, retreat and folding of the nation's flag. After observing each team, the honor guard provided the cadets direct feedback on what they
Coastal Composite Squadron placed first and the combined Winchester and Danville Composite Squadron team placed second and both teams will be advancing to the Middle East Region competition at the end of March to compete at a chance to proceed to the national competition.
More photos from the activity can be viewed
here
.
Civil Air Patrol, the longtime all-volunteer U.S. Air Force auxiliary, is the newest member of the Air Force's Total Force, which consists of regular Air Force, Air National Guard and Air Force Reserve, along with Air Force retired military and civilian employees. CAP, in its Total Force role, operates a fleet of 550 aircraft and performs about 90 percent of continental U.S. inland search and rescue missions as tasked by the Air Force Rescue Coordination Center and is credited by the AFRCC with saving an average of 78 lives annually. Civil Air Patrol's 56,000 members nationwide also perform homeland security, disaster relief and drug interdiction missions at the request of federal, state and local agencies. Its members additionally play a leading role in aerospace education and serve as mentors to more than 24,000 young people currently participating in the CAP cadet program. Performing missions for America for the past 75 years, CAP received the Congressional Gold Medal in 2014 in honor of the heroic efforts of its World War II veterans. CAP also participates in Wreaths Across America, an initiative to remember, honor and teach about the sacrifices of U.S. military veterans. Visit www.capvolunteernow.com for more information.
CONTACT: Captain Jacob Bixler, CAP, pa @ vawg.cap.gov